OUR FINANCING
INVOLVES $15+ BILLION
IN CAPITAL
We are finance ready
Project Reconciliation is in advanced discussions with major financial institutions to secure the financing.
A syndicated bond financing plan – led by Tier 1 bank – is in place to secure all funds needed to purchase 100% of Trans Mountain Corporation (TMC) for 100% ownership for the 129 Indigenous communities.
Project Reconciliation will not be an owner
While the providers of finance (banks, financial institutions, pension funds) will not receive an equity position in TMC, their bond covenants and contract clauses will ensure the pipeline remains available for operations, except for maintenance shut-downs, environmental and safety concerns.
UPHOLDING
INDIGENOUS PEOPLE'S
AUTONOMY AND
SELF-GOVERNANCE
We are governance ready
Governance Framework
Our Indigenous Governance Framework is structured to honour Indigenous People's right to self-reliance, self-determination, self-governance and economic sovereignty.
Provides guidance to the Trans Mountain corporate Board of Directors from the 129 Indigenous Communities
Advances Indigenous sovereignty and stewardship over traditional lands
Integrates traditional and western governance models.
Indigenous Oversight and Guidance
Under the Project Reconciliation umbrella, governance for all PRI entities will incorporate Indigenous traditional knowledge and best practices from corporate governance in Canada.
Indigenous Unit Holders will be represented in a Unit Holders Assembly which will make key policy decisions (voting in proportion to their interests) and approve a Trans Mountain Corporation (TMC) Board of Directors, as nominated by the Board's Governance Committee. This nomination and approval process will ensure the right balance between required skills and unit holder representation on the TMC board.
Indigenous Appointed Board
This Board of Directors will be responsible for acting in the best interests of the Indigenous communities they represent in managing the business and affairs of TMC.
The Unit Holders Assembly will be responsible for key policy decisions , including, among others:
Decisions on expansion to groups outside of the 129;
Approaches to environmental stewardship policies; and
The proportion of net revenue to be dividend between: (i) dividends/revenue-sharing to participating Indigenous groups; and (ii) contributions to the Indigenous Sovereign Wealth Fund (ISWF).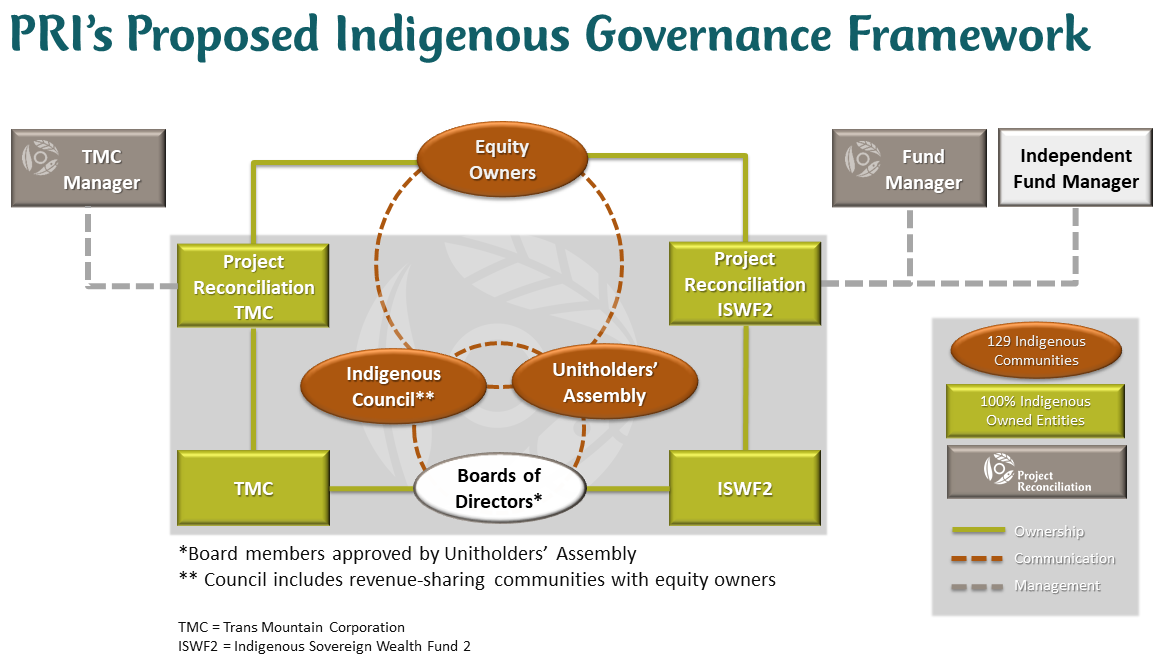 Only those Indigenous communities who choose equity-ownership will be included in the Governance Framework.
Indigenous communities who choose revenue-sharing instead of equity-ownership will not be included in the Indigenous Governance Framework (decision-making position).