CREATING INDIGENOUS GENERATIONAL WEALTH
IN A HEALTHIER ENVIRONMENT 
We envision a future where Indigenous ownership is fully integrated into Canada's investment in, and development of,                      low-carbon energy transition and infrastructure projects.
Our model of Indigenous-corporate engagement as a pathway to prosperity does just that.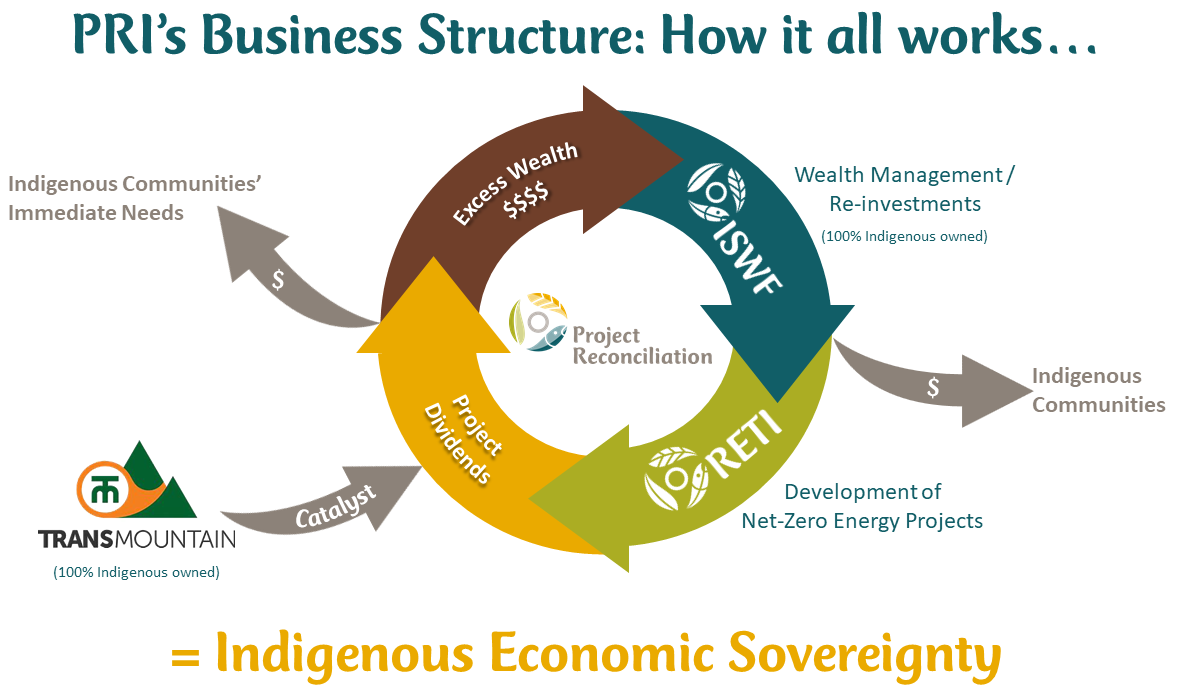 Reconciliation Energy Transition Inc. (RETI)
Identify, invest and develop new energy transition projects founded on material Indigenous equity ownership at the operating level.
Early funding of Indigenous partnerships in energy transition projects
Project Reconciliation's RETI funds front end capital and provides trusted technical management to facilitate Indigenous ownership of major projects.
Indigenous generational wealth creation through equity participation
RETI's announcement to co-develop Shell Canada's proposed large-scale carbon capture and storage (CCS) 'Polaris Project', highlights the importance of corporate Canada's inclusion of Indigenous partnerships in today's push toward low-carbon targets.
Indigenous Sovereign Wealth Fund (ISWF2)
Indigenous participation in our sustainable fund which will invest in early-stage energy transition projects.
Diversifying income streams
A key component of Project Reconciliation's model is to use a portion of the net-cashflow from Trans Mountain Corporation (TMC) to establish a low-carbon energy transition Indigenous Sovereign Wealth Fund (ISWF2), providing yield dividend payments to Indigenous communities.
This approach creates sustainable Indigenous equity participation to share in the operational and financial success of projects in which ISWF2 invests.
Environment and Sustainability
This strategy will have the additional result of reducing environmental impacts from the pipeline through investing in clean energy projects to the benefit of participating Indigenous groups.
This reinvestment strategy has the direct collective benefit of supporting energy transition and offsetting carbon emissions from fossil fuel developments related to TMC pipeline ownership.
Project Reconciliation's Indigenous Sovereign Wealth ESG Fund 1 ("ISWF1") provides the foundation for Canada's Indigenous Peoples and communities to partner with industry in energy transition development projects.